DANUBE-BLACK SEA CANAL
General overview
The canal is entered from the Black Sea at Constanta South Port through the locks at Agigea (Km 1.9). The canal then trends in a NW'ly direction to join the Danube at Cernavoda.
The canal shortens the distance from the Black Sea to Danube ports by approx 400km.
The length of the canal is 64.4km and locations along the canal are referenced by their kilometers (Km) distance from the Constanta entrance. Breadth is 90m, water depth is 7.0m allowing a max draft of 5.5m; bridge clearances are 17.0m and min curve radius is 3,000m.
The canal has a spur link, from approx mid length, to Midia on the Black Sea coast. This canal, Poarta Alba-Midia-Navodari Canal proceeds in a NE'ly direction and has 2 sets of locks. Mainly local trade uses this canal employing 3,000 t single barges with a pusher. The canal is 27.5 km in length, has a width of 45 m and has a governing draft of 4.5 m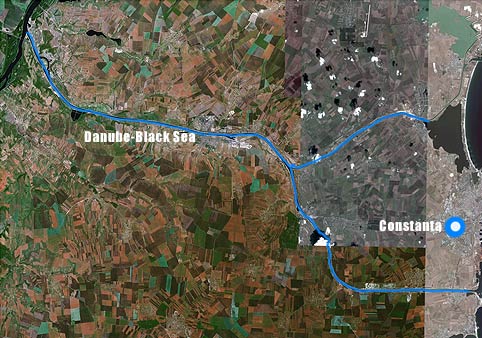 General Information:
Length – 64.4 Km
Breadth – 90 m
Maximum Depth – 7.0 m
Current draught – 5.5 m
Water density – Fresh (1.001)
Bridges clearance – 16.5 m
Locks:
Length – 310 m
Useful width – 25 m
Maximum depth – 7.5 m
Agigea (Black Sea side) – Km 1 + 900
Cernavoda – Km 60 + 300
Main ports:
Medgidia – Km 37 + 500
Basarabi – Km 25
Latitude: 44° 11' N
Longitude: 028° 16' E
Time Zone: GMT +2
Traffic through the canal:
2001

2002

2003

2004

2005
(first half)

Total mt

20,628,674

22,276,966

24,146,839

28,380,358

15,966,905
Max size: Max size characteristics: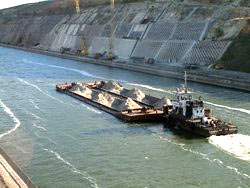 | | Pushed Convoy | Self Propelled Vessels |
| --- | --- | --- |
| Capacity | 6 x 3,000 t | 5,000 dwt |
| Length | 296 m | 138.3 m |
| Breadth | 23 m | 16.8 m |
| Draft | 3.8 m | 5.5 m |
NAVIGATION
Port limits: Cernavoda roads includes the Danube waters in the area situated on the right bank, upstream of the canal mouth, 1,500m in length and 180m in width. Constanta South harbour includes a portion of the basin waters in the area situated N of the canal mouth, length 2,000m and width 200m in maritime, river harbour.
Sea buoy, fairways and channels: The canal is marked on either side by kilometers marks. Entering and leaving the canal is carried out only with the Administration of Navigable Canals permission, given by radio and light signals situated on the right bank at Km 64+150 mark and on the left bank by Km 0+100 mark.
The Km 0 mark is at the entrance to Constanta harbour. Basarabi port is placed at the Km 25 mark on the right bank and Medgidia is placed at the Km 37.5 mark on the right bank.
Pilot: Compulsory for vessels in the canal. Pilot boards at the end of the canal in the roads area. Notice should be given 2 hours prior to arrival at the entrance to the canal, for requesting a pilot to:
- Navigation Dispatcher Agigea, VHF ch 74.
- Navigation Dispatcher Cernavoda, VHF ch 14.
Anchorages: Anchorage in the canal is not permitted.
Tidal range and flow: Nil.
Dock density: 1000.
Weather: When wind speed is over 16m/s, the convoy lock passage is prohibited. If ice is present in the canal, navigation is prohibited.
Principal navigation aids: There are light signals for entering and leaving the locks and for the left and right sides of the canal. The bridges are also marked with light signals.
Traffic schemes: On the Danube Black Sea Canal, navigation is directed by the Navigation Dispatcher of the canal authorities. The instructions of the Navigation Dispatcher are compulsory for Masters and pilots.
Restrictions: Max speed of vessels transiting the canal is limited to 1-12km/hr. The canal has double locks at Agigea (Km 1.9) and Cernavoda (Km 60.3). The lock chambers are 310m in length, 25m in width and min sill depth of 7.5m. The max time for passing the locks is 60 mins.
Tugs: There are 2 x 300hp tugs available for manoeuvring into the ports and for assistance on the canal if required.
GENERAL
Repairs: Not available.
Docking facilities: None.
Bunkers/water/stores: Fresh water - Good quality potable water available from Medgidia port.
Bunkering: Yes
Medical facilities: Hospital facilities available.
Crew change: Scheduled aircraft connect Constanta-Kogainiceanu airport daily with Bucuresti-Bancasa and from Bucuresti-Otopeni with the most important European airports.
Consuls: Consulates are available for China, Greece, Russia and Turkey.
Banks: Available.
Public holidays: New Years Day, Jan 2, Good Friday (one of two days in April, May 1, Dec 1 (National Day), Dec 25, Dec 26 (Christmas Day).
Working hours: The canals are open for navigation throughout 24 hours. At Head Office working hours are Mon-Fri 0730-1600hrs LT.
Developments: A computer system is being installed to control traffic activities.
Surveyors: Agents for Surveillance and Classification Societies are nearby.