ROMANIA - GENERAL INFORMATION
Official Name:
Romania
Time Zone Area:
Seven hours ahead of U.S. Eastern Standard Time (GMT + 2)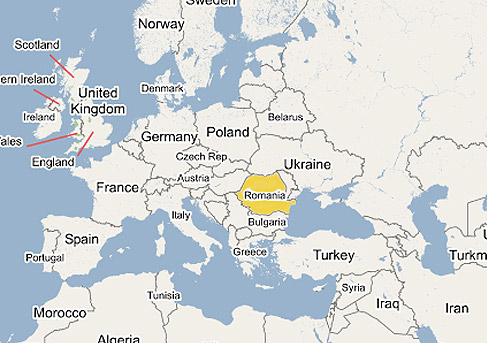 Population:
21.60 million(2004 census)
22 million(year 2010 forecast)
Ethnic Groups:
Romanian 89%, Hungarian 7.5%, Gipsy 1.9%, German, Other 1.6%
Religions:
Christian Orthodox 87%, Roman Catholic 5%, Protestant 5%, Jewish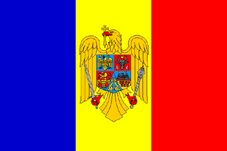 Flag of Romania:
Three vertical stripes: red, yellow and blue.
Climate:
Temperate, four distinct seasons: pleasant temperatures during Spring and Fall, hot Summers, cold Winters
Capital:
Bucharest (Bucuresti) - Population: 2.1 million
Official Language:
Romanian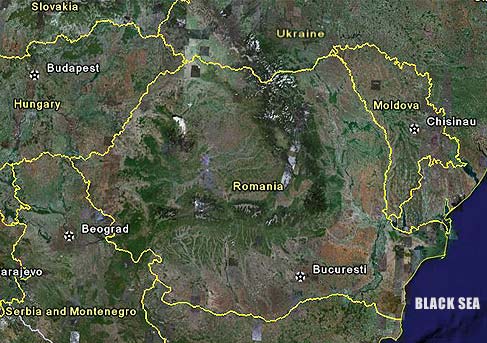 Form of Government:
Parliamentary Republic with two legislative bodies: Senate (Senat) and Chamber of Representatives (Camera Deputatilor)
Head of State
President, directly elected, by universal suffrage, for a maximum of two consecutive five-year terms; currently Mr. Traian Basescu, who was elected in December 2004.
Head of Government
Prime Minister who is appointed by the President; currently Mr. Calin Popescu Tariceanu
Romania is a NATO member and is expected to become member of the European Union in January 2007.
Main religions in Romania
Eastern Orthodox 87%, Roman Catholic 5% and Protestant 5%.
Language
Romanian, a Latin based language which is a continuation of the Latin spoken in ancient times in Dacia and Moesia — the eastern provinces of the Roman Empire. A 31-letter Latin alphabet is in use.
Ethnic minorities (Hungarian and German) use their own languages in school and civil administration.
Literacy rate in Romania is 98%.
Most Romanians living in towns and cities are able to communicate in English, French or German. In smaller villages only younger people and children speak one or more foreign languages.
Public Holidays
January 1 and 2: New Year
Monday following Orthodox Easter:
March, April or early May (date varies)
May 1: Labor Day
December 1: National Day
December 25-26: Christmas
Dates of the Orthodox Easter (public holiday):
2007 - April 8, 9
2008 - April 27, 28 2010 - April 4, 5
Several religious holidays including feasts of St. John (January 7), St. George (April 23), Sts. Peter & Paul (June 29), St. Mary (August 15), St. Michael (November 8) and St. Nicholas (December 6) are observed throughout the year in rural areas.
It is customary for Romanians all over the country to celebrate their Saint's Name Day (Ziua Onomastica).Ethnic minorities celebrate their own holidays.